+91 7755905375 / +91 9156095924 | response@servofeeder.in
Manufacturer of Decoiler with Straighteners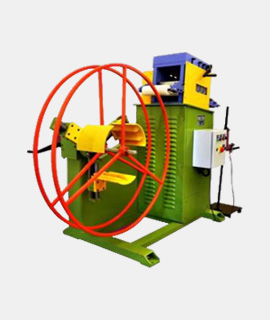 Three jaws mandrel where the coil is placed with the guide ring so that it gets straight into the straightener head.
Star type mandrel specially made for 200 & 500 Kg coils.
500 Kgs Decoiler with Straightener comes in Different models.
Straightening rollers are grinded hardened in thermal process with 57 to 58 HRC & hard chrome plated thereafter.
If the coil thickness is lesser than 1.0 mm then we use Antenna type sensor hence, we the coil thickness gets higher then we use limit arm sensor.
Geared Motor mounted inside the base is of 2.0 HP Motor, Size 3", Gear box, Chain Driven.
Standard control panel 2.0 Hp used for Decoiler and Straightener, VFD control panel is also available on special purposes which helps in speed variation.
1 Set of pinch roller & 7/9 Nos of straightening rollers functions straightening of coil material.
Gang housing given on the top of the straightener for the alignment of straightening rollers up to coil thickness 2.5 mm and individual housing for roller adjustment beyond thickness 2.5 mm.